Join us for our monthly Lyme & Tick-Borne Disease Support Group!
Join us on the 2nd Wednesday of every month.
Do you or a loved one have it? You are not alone. Better together. We would love to see you there!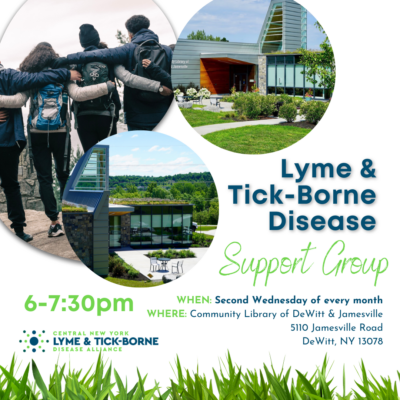 Starting in August 2023, we will be moving our monthly support group meetings to Community Library of DeWitt & Jamesville, 2nd Wednesday of month, 6-7:30pm.
The CNY Lyme & Tick-Borne Disease Alliance Support Group is a group of individuals who come together to share their experience, strength and hope of their journeys with each other. Our purpose is to support and educate those with or around tick-borne diseases and their impact.
WHEN: Wednesday, August 9th; 6:00pm-7:30pm
WHERE: Community Library of DeWitt & Jamesville
5110 Jamesville Road
DeWitt, NY 13078
Upcoming Support Groups: Confirmed support group dates:
September 13, 2023
For more information about the support group or to suggest discussion topics, email our support group facilitator at supportgroup@cnylymealliance.org.