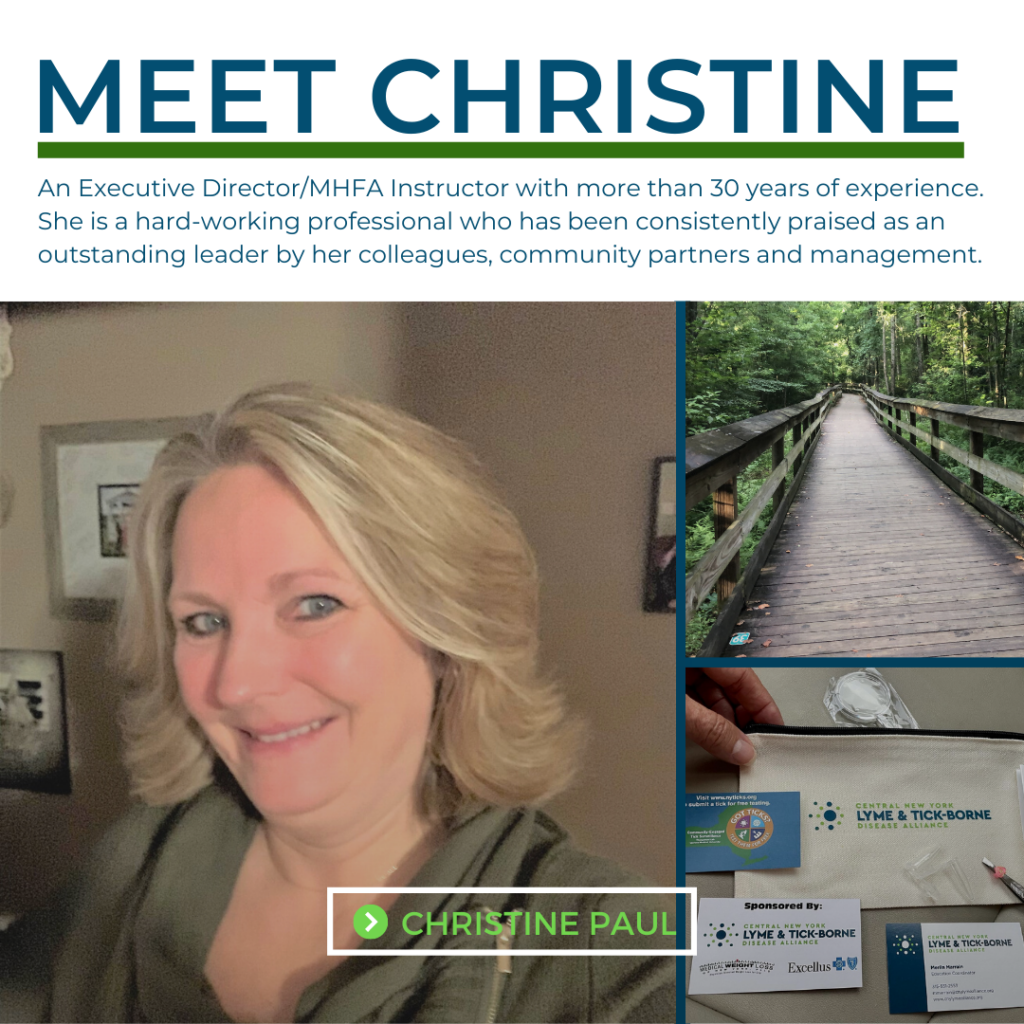 Christine Paul is an Executive Director/MHFA Instructor with more than 30 years of experience. She is a a hard-working professional who has been consistently praised as an outstanding leader by her colleagues, community partners and management. She has consistently demonstrated leadership, critical thinking, and the ability to develop significant relationships with community partners.
---
What paid or volunteer positions have you held that pertain to your board membership?
Board Member; Chenango Housing Improvement Program, Inc.
What are you up to now?
I am the Executive Director for the Madison County Rural Health Council.
What is your educational or professional background?
I have 30 years of experience in the health and human service field with 13 years being in the nonprofit sector. I am a peer leader/master trainer and instructor for multiple evidence based workshops, such as Chronic Disease Self-Management, Diabetes Self-Management and Mental Health First Aid (Adult, Youth, and Fire/EMS).
Can you tell us about a project you are most proud to have been a part of? Why and what was your role?
The project I am most proud of is called "Do It For You." It is an initiative to promote mental wellness and we give out a bag filled with "goodies" such as a water bottle, journal, and colored pencils.
My role with this was to write the support of funds to bring the initiative to life!
What are you most excited about in joining the work of the Alliance?
I am most excited to educate myself on the Alliance, collaborate and build partnerships.
Who is the person who influenced you most in the path you've taken in life?
My father.
Are there any great books, musicians, movies, exhibits, plays or experiences you've recently engaged with that you would recommend to others?
Joan Garry's Guide to Nonprofit Leadership: Because Nonprofits Are Messy
What would you like to share about your family?
I live in Erieville, NY with my husband Allen and our Siberian Husky, Sawyer. I have two adult children, four "bonus" adult children and 10 grandchildren.
We love to spend time in the Adirondacks at our camp in Blue Mountain, NY.