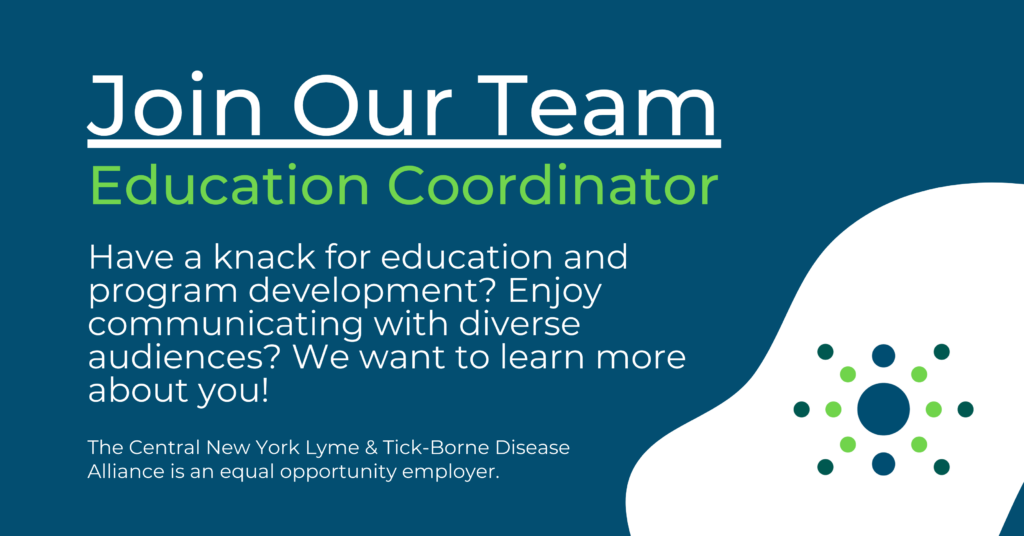 POSITION SUMMARY
Under the leadership of the Executive Director, the Education Coordinator will create and deliver educational programs and assist in program development to further the purpose and goals of the CNY Lyme and Tick-Borne Disease Alliance. The Education Coordinator delivers both in-person and online educational programs and services in the form of presentations, seminars, workshops, This position requires an effective communicator who can interact with diverse individuals in small and large groups, representing the Alliance to external partners, general public, healthcare professionals, community organizations, corporations, youth groups and more.
ESSENTIAL DUTIES & RESPONSIBILITIES
Performs both in-person and online educational presentations to various populations utilizing current instructional methods. Must be able to conduct digital presentations and webinars via online delivery methods such as Zoom, Facebook live and other methods of web-based curriculum delivery.
Creates and refines educational materials and presentations as needed. Serves as content expert for education offerings to ensure materials contain up-to-date information as approved by the Alliance Scientific Advisory Board.
Works to develop new educational opportunities and/or potential partnerships for education delivery.
Corresponds with organizations about event scheduling and registration.
Engages proactively with communications department to ensure efficient coordination of education program and event schedules with Alliance calendar and other planned events.
Manages and maintains all education-related attendance data in the event management system, including scheduling, entering and updating contact names, phone, address and email information.
Evaluates customer feedback to identify ways to continuously improve educational program offerings.
Informs Executive Director on current and future education-related programs and partnerships.
Performs other duties as assigned by the Executive Director.
QUALIFICATIONS
Requires Bachelor's degree in Education or related field.
Three (3) years of work experience in an educational environment is preferred.
Experience with Lyme disease or other tick-borne diseases a plus.
Certifications in educational instruction from an accredited institution or organization are advantageous.
Solid computer-proficiency skills and abilities, including online delivery platforms, technology applications and mobile devices as well as Microsoft Office, Google Docs, Slack and database knowledge.
Any combination of experience and education will be considered in lieu of meeting exact qualifications.
KNOWLEDGE, SKILLS, AND ABILITIES
Ability to continually evaluate and recommend changes to existing educational efforts to achieve maximum opportunity potential.
Strong interpersonal and communication skills, in writing and orally across various media.
Good project management experience, including time management, coordination, and organizational skills.
Strong creative and visionary abilities to add value to current or future educational programs or curriculum.
Must be self-motivated and able to work alone and without supervision much of the time.
Good analytical thought process, including problem solving and decision-making skills and abilities.
Must be available to work a flexible schedule to include occasional evenings or weekends.
NEW INFECTIOUS DISEASE GUIDELINES
To reduce the spread of a new infectious disease that presents a clear and present danger and assure the Alliance is a health-related and safe organization, where associated individuals – board members, staff, contractors and volunteers – support and model excellent healthcare practices.
General Protection Measures
Follow NYS law and mandates and local healthcare and CDC guidelines.
Require all board members, staff, contractors and volunteers to be vaccinated if eligible, unless the individual has a doctor's written exemption. An individual with an approved medical exemption will be required to present negative results per a PCR test on a weekly basis at the individual's expense.
Non-Compliance
People affiliated with the Alliance are expected to be fully vaccinated against COVID-19.
Individuals have 30 days to comply with these practices. Non-compliance will be deemed to be an immediate voluntary resignation.
EQUAL OPPORTUNITY EMPLOYER
The Alliance provides equal employment opportunities to all employees and applicants for employment without regard to race, ethnic group identification, ethnic background, and traits historically associated with race, including but not limited to, hair texture and protective hairstyles, religion, wearing any attire, clothing, or facial hair in accordance with the requirements of religion, creed, color, sex (including pregnancy, childbirth or related medical conditions), gender, gender identity or expression, sexual orientation, sexual harassment, age, citizenship status, national origin, ancestry, familial or marital status, military status, unfavorable military discharge, veteran status, disability, physical or mental handicap, domestic violence victim status, orders of protection, predisposing genetic characteristics, arrest record, retaliation, or any other class, status or condition protected by applicable federal, state and local laws. Equal employment opportunity applies to all terms and conditions of employment including, but not limited to, hiring, placement, promotion, termination, layoff, recall, transfer, leave of absence, compensation, and training.
Diversity and Inclusion Statement
Since our inception, the Central New York Lyme and Tick-Borne Disease Alliance subscribes to these fundamental principles: Diversity and inclusion are foundational to the Alliance.
We work to address the deep disparities in healthcare.
This is how we act intentionally as a board and operate as an organization: in board membership; in thought, discussion and decision-making; in educational programming; in grants we seek.