What is the CNY Lyme and Tick-Borne Disease Alliance?
The Alliance is a collaborative of providers, scientists and community members who support research, drive education and promote awareness to combat tick-borne diseases.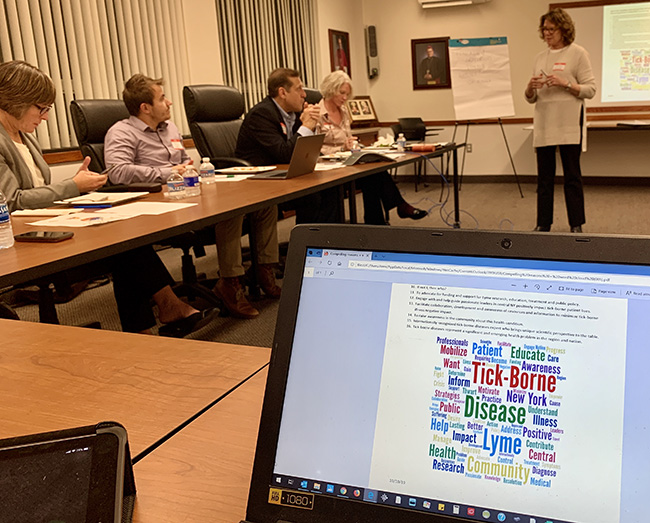 What we're doing?
We are connecting the dots.
In Central New York, we have doctors and scientists fully immersed in the treatment and study of tick-borne diseases. We have countless patients and survivors. We have community leaders and elected officials who have shown deep interest in the issue. We have people who simply don't know about the diseases or understand the gravity of the issue. We're working to advance solutions in four key areas: clinical, education, research and environment.
How we do it?
Communicate. Educate. Reach out. Connect. Collaborate. Convene. Facilitate. All of these keep us on track to combat Lyme and tick-borne diseases.
What impact does it have?
Expand patient access to resources.
Build public awareness: prevention, recognition of symptoms, community assets.
Strengthen connections between clinicians and researchers.
Bring dollars to fund research.
Collaborative between Global Lyme Alliance and CNY Lyme and Tick-Borne Disease Alliance
We are pleased to have the guidance and support of Global Lyme Alliance in helping CNY launch an effort to research, educate, treat and advocate for Lyme and tick-borne diseases.
A key goal of both GLA and CNY Lyme and Tick-Borne Disease Alliance is education: both to prevent infection and to support individuals and families seeking an accurate diagnosis and treatment. Following simple tick bite prevention tips is critical to keeping people safe from Lyme and other co-infections, especially given the inaccuracies in current diagnostics and limited treatment options.
In CNY we are facing a major epidemic of Lyme and its co-infections. At the same time, we have the benefit of a growing team of Lyme experts.
GLA and CNY Lyme and Tick-Borne Disease Alliance will spend the next year collaborating as we educate our community and providers.